MS Allure of the Seas is a cruise ship and is sister ship to the MS Oasis of the Seas, the two of which hold the distinction of being the world's largest passenger vessels, although it was recently determined that—through an anomaly discovered by design engineers—Allure of the Seas is actually two inches longer than her sister ship, which technically makes Allure the largest passenger ship ever constructed, despite the fact that both ships have identical superstructures.
She was designed under the name "Project Genesis". She was ordered in February of 2006 and construction officially began at STX Europe in Turku, Finland, in February of 2008. She was named in May of 2008 after a contest was held to name her and her sister. The keel of the Allure of the Seas was laid on 2 December 2008.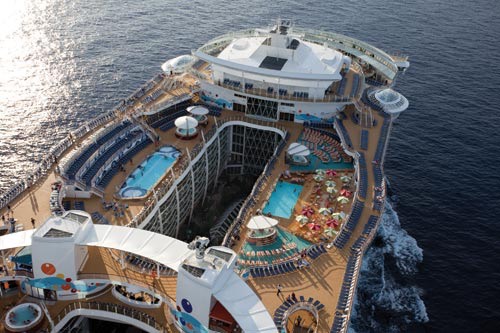 Allure of the Seas is 1,188 feet (362 m) long, has a tonnage of 225,000 gross tons, and carries around 5,600 people. The ship features telescoping funnels, a two-deck dance hall, a theatre with 1,380 seats, and an ice skating rink.
Allure of the Seas passing under the Storebaelt Bridge, 30 October 2010
She left the Turku shipyard on 29 October 2010, at 0545 UTC, heading directly to her future home port of Port Everglades, near Fort Lauderdale, Florida, USA.[4] The ship was required to pass under the Storebaelt Bridge on 30 October with a 20-inch (51 cm) clearance and a 1.5-inch (3.8 cm) margin of error.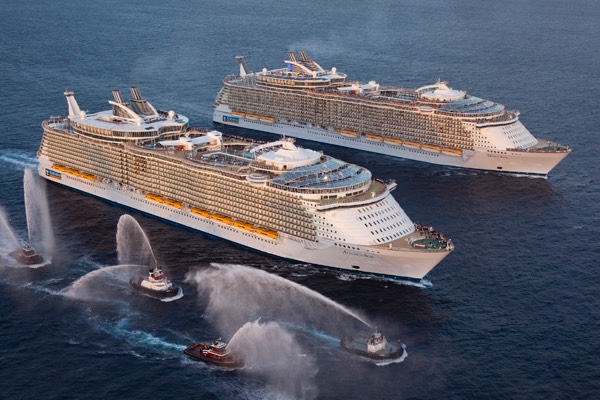 On November 11, 2010 at approximately 9:30 a.m EST, Allure of the Seas arrived at her home port, Port Everglades in Florida. She was greeted by thousands of fans waiting on the shore. She is currently docked at Terminal 18, and will be there until Saturday when she will have to move to make room for the Oasis of the Seas. This will be used as a rare photo opportunity by Royal Caribbean International and will showcase both Oasis-class ships, Oasis of the Seas and Allure of the Seas.
It was announced by Royal Caribbean International that the Allure is 5 centimeters longer than her sister ship, Oasis of the Seas. There is a sign explaining the differences between the Oasis and the Allure, with the title of the sign being, "What can you do with an extra 5 centimeters?"
The ship was formally named by her godmother Princess Fiona on 28 November 2010.