The Wilh. Wilhelmsen group has launched its 150th anniversary vessel, MV Tønsberg, into operation. The Mark V class is the most sophisticated vessel ever built in the roll-on roll-off segment.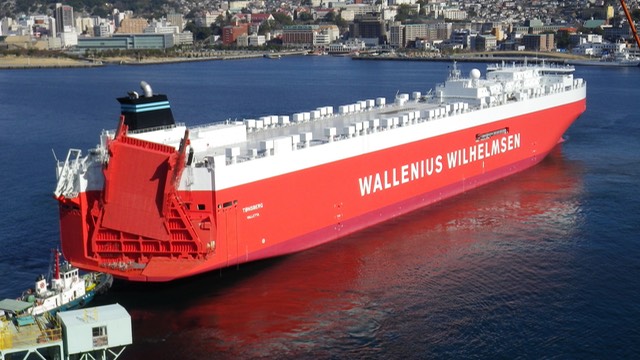 "We expect that Mark V will strengthen our position as the global market leader within deep sea roll-on roll-off transport", says Jan Eyvin Wang, president and CEO of Wilh. Wilhelmsen ASA, representing the owner of the vessel. "The Mark V class is the most sophisticated ro-ro vessels ever built with major innovative design criteria such as high ramp capacity, deck strength and height, low fuel consumption, good transportation economy and safe cargo handling. Together with Mitsubishi Heavy Industries, we have constructed a class of environmentally friendly vessels with several unique features".

The Mark V vessel is the largest of its kind, with a length of 265 metres offering a cargo volume of 138 000 cubic metres over six fixed and three hoistable decks. The pioneering roll-on/roll-off vessel is built at Mitsubishi Heavy Industries in Nagasaki, Japan. Four Mark V vessels will be delivered to Wilh. Wilhelmsen ASA and its partner Wallenius Lines. The second vessel will be delivered in August and two in 2012.

Wilh. Wilhelmsen technical department developed the design in close cooperation with the shipyard and has been responsible for follow-up of the construction work at the yard.

Built for larger, heavier cargo
Wilh. Wilhelmsen ASA experienced a strong rebound in its shipping operations last year, with a 25% increase in transported volumes in 2010 compared with 2009.
"The market demands new and more effective tonnage, and we foresee the Mark V class as a dynamic driver in its segment", explains Jan Eyvin Wang.

The entire cargo hold of the MV Tønsberg is arranged for customer's high and heavy cargo such as excavators, bulldozers, wheel loaders and harvesters.

With a width of 12 metres and safe working load of 505 tonnes, the vessel's stern ramp offers customers the possibility to ship larger units than ever before. The clear height of the main deck, 7.1 metres, is also unprecedented for this kind of vessel.

Cargo can even be loaded on the weather deck, which has a ramp from the deck below. Three decks can be hoisted by electric winches to provide maximum flexibility and utilisation. MV Tønsberg will commence service in the Wallenius Wilhelmsen Logistics' round-the-world trade. "M/V Tønsberg will make Wallenius Wilhelmsen Logistics unique position in the market for transport of high and heavy cargo even stronger," explains Wang.

"The M/V Tønsberg is a welcomed addition to our fleet, allowing us to carry larger cargo, and more of it, with reduced environmental impacts," says Arild Iversen, president and CEO of Wallenius Wilhelmsen Logistics. "MV Tønsberg and our entire 2011 newbuilding programme mean better service, more options and more capacity for our customers. Such investments are how we maintain our promise to deliver innovative and sustainable global shipping and logistics solutions for manufacturers of cars, trucks, heavy equipment and specialised cargo."

Designed for sustainability
The Mark V will use 15 to 20% less fuel per transported unit than its predecessors, thanks to optimised hull form and a number of energy saving features such as the streamlined rudder design and duck tail. In the engine room an advanced turbo generator produces electricity from the waste, exhaust heat. In total, these initiatives help to cut emissions significantly.

A Unitor water ballast water treatment system avoids harmful transfer of microorganisms to the sea. Further, all fuel oil tanks are protected to minimise the risk of leakage in case of grounding or collision.

MV Tønsberg is the fourth vessel with this name in the Wilh. Wilhelmsen fleet. It is named after the coastal town in Norway where Wilh. Wilhelmsen was founded in 1861. MV Tønsberg is the Wilh. Wilhelmsen group's 150th anniversary vessel.

Manning and technical management will be performed by Wilhelmsen Ship Management Norway. MV Tønsberg will fly the Maltese flag, and be owned by Wilhelmsen Lines Shipowning Malta, which is owned by Wilh. Wilhelmsen ASA.